BB Backbone Successfully Transmits 800Gbps Connectivity between Tokyo Metro Data Centers Utilizing Ciena's WaveLogic 5 Extreme
April 17, 2023
BB Backbone Corp.
BB Backbone Corp. (President and CEO: Hidetoshi Tosaka; Head Office: Minato-ku, Tokyo) has successfully transmitted 800Gbps in a commercial spectrum network using Ciena's WaveLogic 5 Extreme (WL5e) transponders with a bandwidth of 100GHz in an Alien Wavelength (spectrum service) connectivity. In the future, we will continue to research and develop services that will meet the customers' high-capacity connectivity needs.
■Background
B³ Spectrum, a wavelength lease service launched in July 2019, has realized an Alien Wavelength (spectrum service) connectivity, and has completed connectivity tests with a wide variety of transponders. In order to achieve higher transmission capacity with the increasing demand for higher-capacity data transmission, we have confirmed this feasibility with Ciena's transponder [WL5e].
■ Connectivity Test
For this connectivity test, Waveserver 5 platform (Figure 1) installed with Ciena's WL5e transponders was used to perform transmission amid wavelength for the crosstalk test. We constructed a circuit passing through two data centers in Tokyo on a commercial spectrum environment (Figure 2). Under the condition that the wavelength for the crosstalk test was there, the parameters for the frame loss test were checked and the waveform was verified using a spectrum analyzer. The test results proved that the 800Gbps transmission was successfully performed without any transmission quality issues.
WL5e transponder can transmit 800Gbps either by 100GHz spectrum bandwidth or 112.5 GHz spectrum bandwidth. For this verification, we set the bandwidth to 100GHz, which can utilize the spectrum bandwidth more effectively and is also available in B³ Spectrum service menu.

(Figure 1) Waveserver 5 with WL5e transponder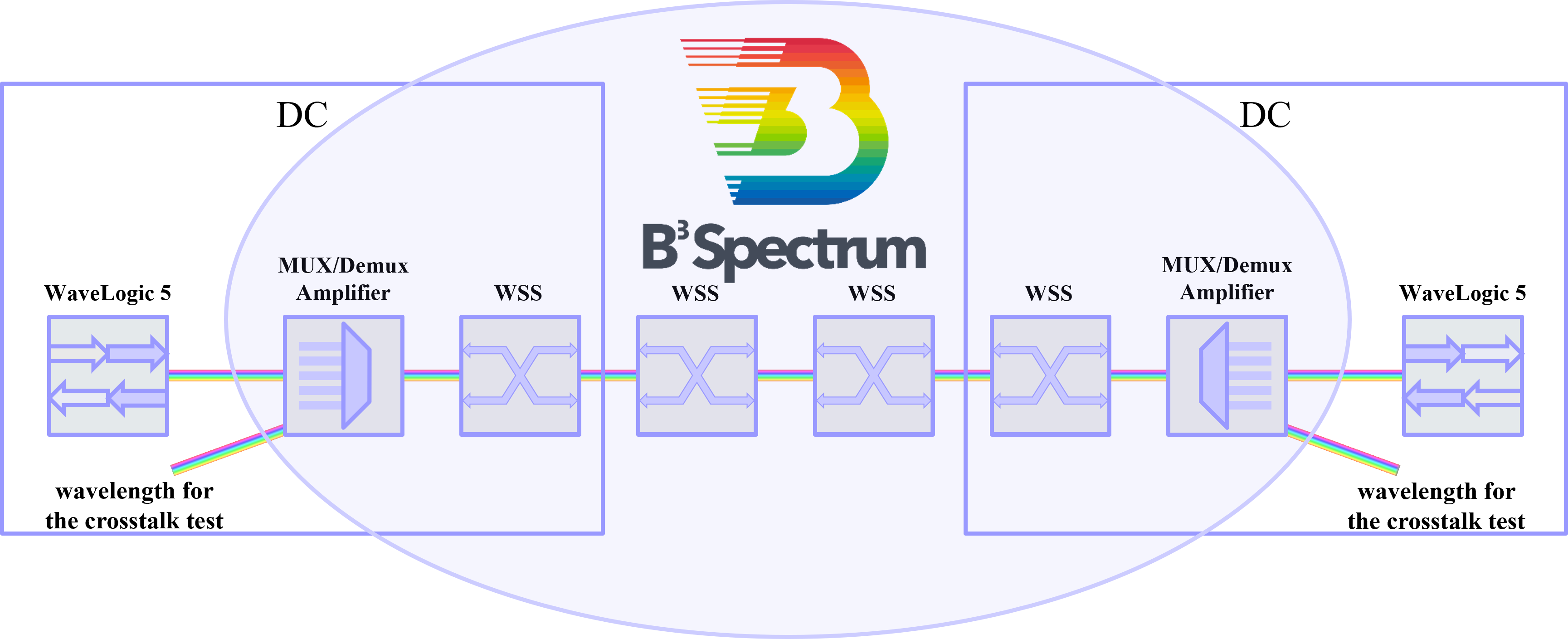 (Figure 2) Connectivity Test Diagram
■Future Outlook
B³ Spectrum is a cost-effective connectivity compared to the traditional lease line and BB Backbone will continue to research, investigate, and promote customer-first, high-efficient, low-cost connectivity.
■BB Backbone
Company Name : BB Backbone Corp.
Head Office : 1-7-1 Kaigan, Minato-ku, Tokyo, Japan
Representative : Hidetoshi Tosaka, President and Representative Director
Capital : 1.26 billion yen (a subsidiary of SoftBank Corp.)
URL : https://www.bbbackbone.co.jp/
For any inquiries, please feel free to contact below.
BB Backbone Corp.
TEL : +81-3-6889-1255
Email : SBMGRP-BBBSales@g.softbank.co.jp