Solutions
Dark Fiber Services
Flexible route design tailored to the customer's needs.
We help customers to reinforce network connectivity by offering optimized private routes from a wide selection of fiber options.
BBB
BBB Dark Fiber Services
Service Overview
In addition to our own high-quality fiber, we offer fiber solutions optimized for the customer using provider-neutral fiber design. We have proven track record as a highly-regarded provider for Domestic and Gobal Carriers, OTTs, Hyperscalers, Contents Delivery Service Providers, Cloud Service Providers and Data Center Operators.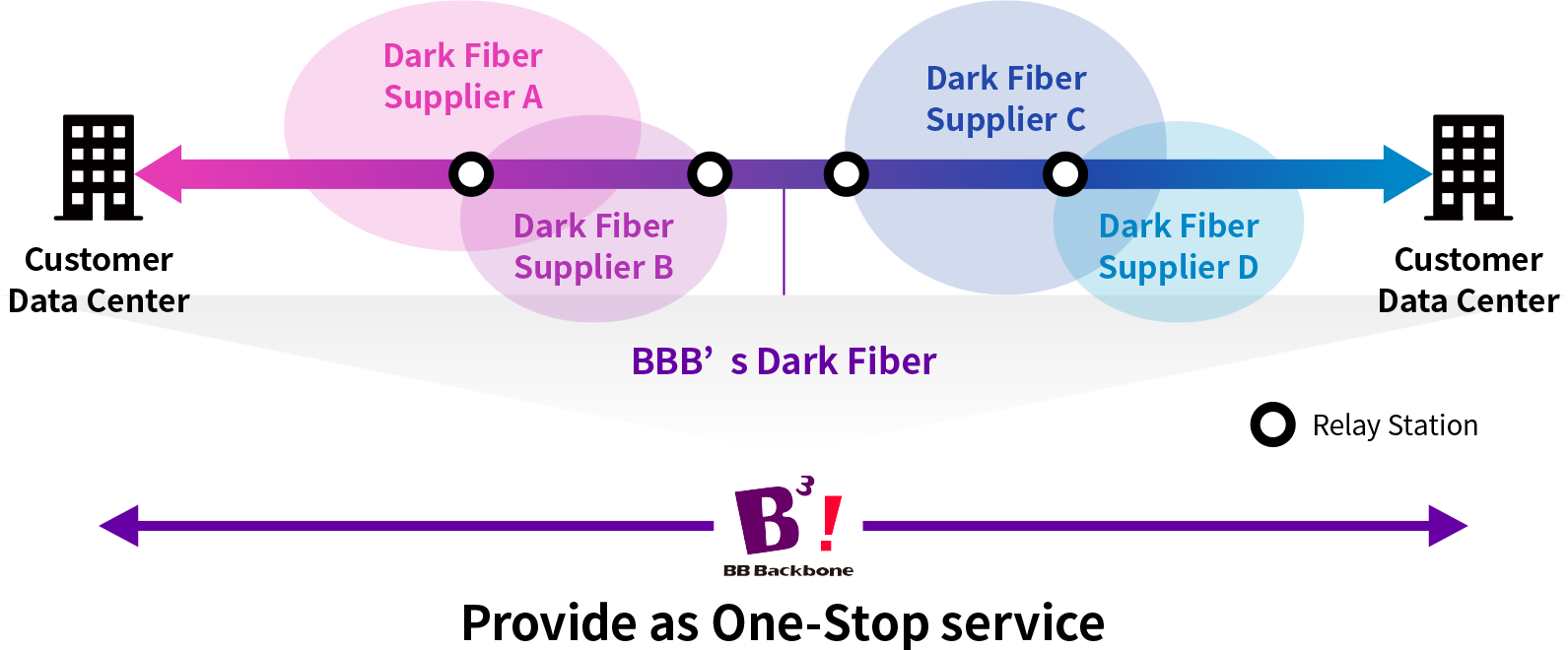 Why Business Choose BBB Dark Fiber Services
Customer Benefits
We focus on solution and provide the best optimized dark fiber routes for our customers.We value listening to our customer's requirements such as route distance, optic loss rate, budget, delivery deadlines and provide the best matched solution. Our sales team and maintenance teams are bilingual both in Japanese and English to meet our global customer needs. Our Global Maintenance Team operates 24H/365D to troubleshoot the network troubles.

Benefits
Connections between customer data centers (sites)
Selection of the ideal optical fiber providers in each provision area
Potential for design of multiple routes with different paths
Optimized proposals that emphasize requirements like costs, deadlines, and quality
Full 24-hour Japanese and English maintenance contact point
Dark Fiber Service Area
Example
Here, we will introduce some areas where we are capable of providing the services. BBB covers core data center areas such as Tokyo metro area and Osaka metro, as well as offer connections to submarine cable landing stations. Furthermore, we can also offer super long distance fiber such as between Tokyo and Osaka areas and beyond, depending on customer requirements.
Tokyo Area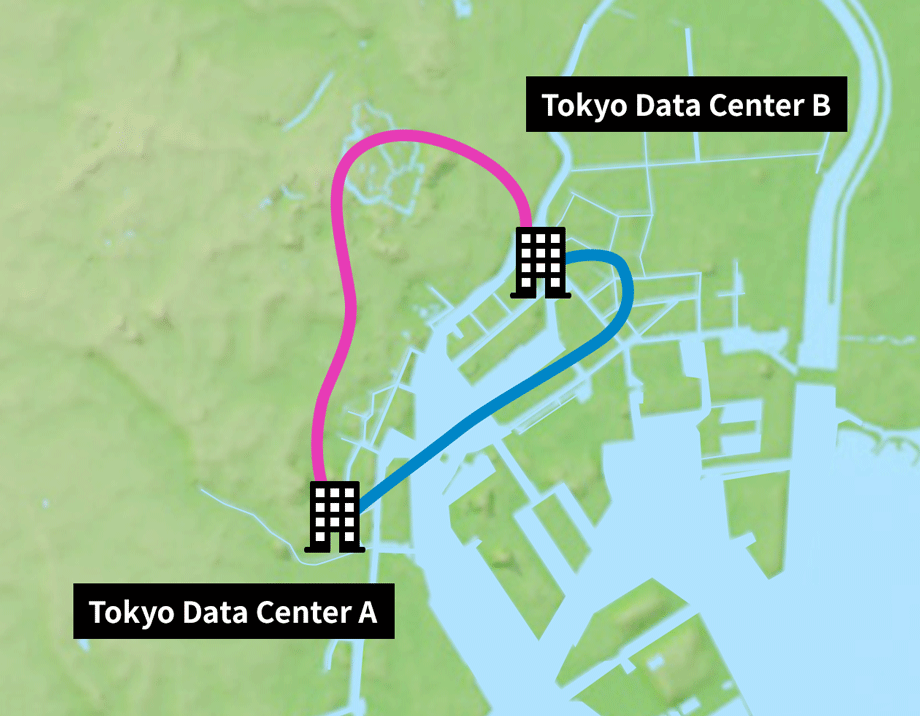 The Tokyo metro area is the core location point for many data centers and customer networks. We propose optimized routes from multiple fiber options. The following is a case study of diverse fiber design between 2 customer sites in the Tokyo metro area.Route Example 1
Osaka Area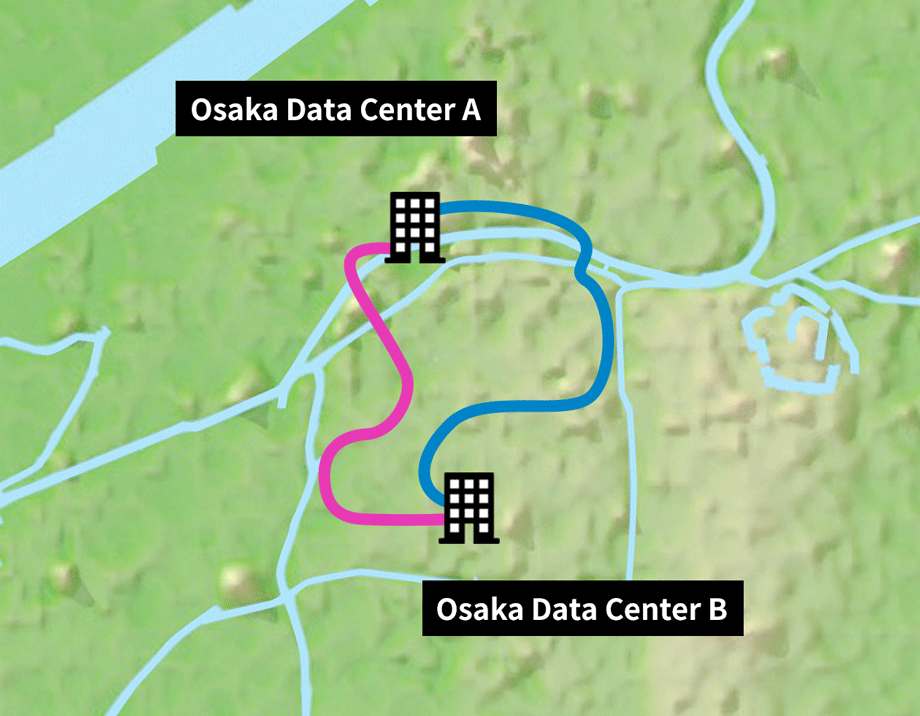 BBB owns multiple fiber connections to key data centers in Osaka. With these original dark fibers, we can provide these high-quality fiber on a short lead time. We can also provide full redundannt fiber to these locations. Following is a case study of connections within city of Osaka.Route Example 2
Undersea Cable Landing Stations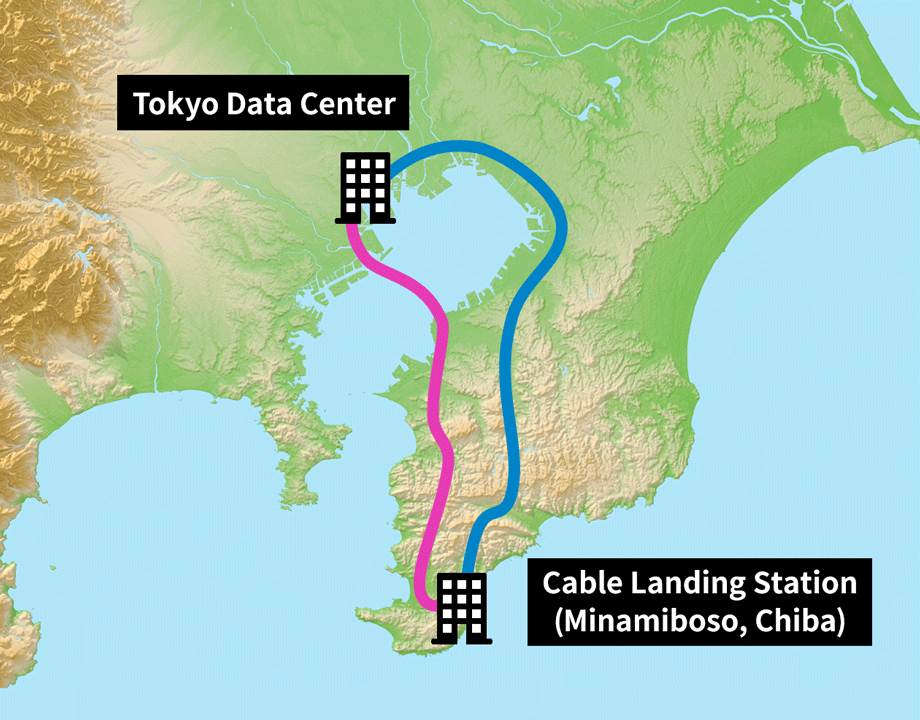 We can also provide dark fiber connections as a Long-Hual from submarine cable landing stations to key metro data centers. The figure on the left is an example of a connection from the Southern Chiba landing station to a data center location within the Tokyo metro area. We provide both undersea routes and terrestrial routes for dark fiber backhaul from the submarine cable landing station to the metro data centers.Route Example 3